Best Rowing machine reviews 2019. Find our Rowing machine reviews, comparison charts and buying guides to help you buy the right rowing machine for your workout.
After almost 6 months of working out on ten different rowing machines with  team members of different sizes and different variations of exercise routines,  turned out to be the best performing Rowing machine in terms of both performance and comfort.
If you're looking for the best rowing machine out there then our top recommendation for 2019 is the Concept2 Model D with PM5. A beast when it comes to rowing machines.
However, if you're on a budget and don't really see yourself spending $900 for a rowing machine then you might find Stamina Air Rower to be a better suite for yourself. It's priced at a mere $299 but delivers on the performance that comes with an air rower. It's pretty compact and designed for comfort. While it does leave out on some key upgrades, for $299 it is definitely a big bargain.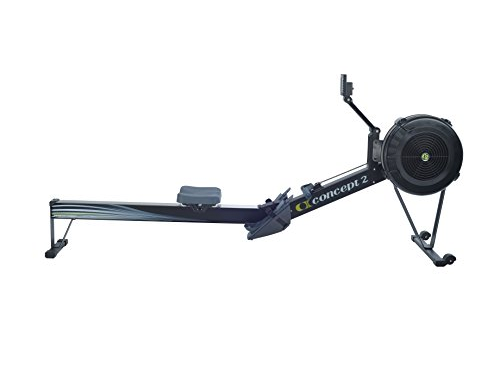 Best Rowing Machines for Competitive preparation and Triathlons
If you are serious about building up your stamina to competitive levels and constantly tracking and improving your fitness levels then here are our top two recommendations for you.
1. Concept2 Model D – Model D is a beast when it comes to rowing machines and if you're seriously working your improving your fitness levels then this one is a worthy investment.
2. Stamina Avari – The next best option to the Model D under $1000. The Stamina Avari has a lot to offer and the sleek design, state-of-the-art tech and magnetic resistance are just the highlights.
Best Rowing Machines for Beginners
Maybe you are just looking for a way to get some daily cardio done without risking any knee injuries and spending $900 on a rowing machine for that might not be a good idea for everyone. Here is our top recommendations that's just perfect for you.
1. Stamina Air Rower – The best value for money rowing machine that money can buy. It comes with everything you would get with a high end rowing machine but under a budget.
Browse by Budget:
Best Rowing machine under $1000
Best Rowing machine under $500
Best Rowing machine under $300
⇢ THE WINNERS: THE BEST ROWING MACHINES 2019
#1 Recommendation : Concept 2 Model D With PM5
The Concept2 Model D (Black) with PM5 is priced at $900 is our top recommendation for 2019 and comes in a beautiful, sleek and ergonomic design.
We've found it to be absolutely stunning when it comes to build quality.
Build Quality
This particular model by Concept2 comes is powered by an aluminium monorail frame.
Secondly, the machine features a spiral damper that allows you to adjust the airflow and keeps noise to a minimum and making it possible to enjoy music during your workouts.
The seat is comfortable to sit on during long workouts and provides the required stability during intense workouts.
The handle delivers a firm grip even when you get sweaty after 30-40 minutes of working out on it. The air resistance makes sure that the whole process of rowing flows pretty smoothly, without any jerks. Rowing machines can get noisy and while there is a some noise that is generated due to the resistance, it is not distracting or annoying. However, if you do not like it, you could always play some background music while you workout.
The machine can be easily dismantled into two parts using quick locks which makes it easy to move it around.
Technology
A feature that sets this machine apart from other rowing machines is the performance monitor that it comes equipped with. You can use this screen to view the intensity and duration of your workouts as well as how much distance you've rowed and how much calories you've burnt in a every workout.
You can even set the different levels of resistance you'd like to workout on depending upon your level of fitness.
And while a lot of other rowers do offer this kind of technology, the one used in Model D offers 160×160 pixels resolution and all your workout data is stored in a USB card that can be downloaded into MyFitnessPal app to analyse your performance growth.
This is a good upgrade for those of you who want to constantly improve upon your strength and endurance or if you're a fitness nerd like me. However, if you're not excited by data and just need a rower for a daily home workout, then Stamina Air Rower is more than enough.  
Size
Concept2 Model D integrates a great build quality with a lot of features and that's what has made it bulk up in size.
This is one of the key drawbacks of this machine and shouldn't be a deal-breaker, as long as you have enough space to place it.
Price
The Model D is priced at $900 which makes it a high-end rowing machine and if you're planning to use it for the next 2-3 years then it is well worth the investment.
However, we do realise that not everyone can afford a $900 rowing machine and that's why we've reviewed and listed some cheaper alternatives but if you're someone who can, then this is the best you can get.
==>  Click here to See Today's Discount on Concept2 Model D
[Runner Up] Best Rowing Machine under $1000
Stamina Avari Magnetic Rower
Ranked as one of the top 10 best selling rowing machines on Amazon, the Stamina Avari is the next best rower you can get for under $1000.
Build Quality
Stamina has done a very good job in delivering on design and build quality when it comes to the Avari. The rowing beam is built up with extruded aluminum.
It's a comfortable machine with padded seats and handlebar. Fortunately, the footrest is wide enough to avoid your feet from slipping. While it might sound weird, a lot of rowers do not come with enough space at the footrest which can get a little annoying 10-15 minutes into your workout.
Talking about assembly… the assembly process for Stamina Avari is pretty straight forward and it does not take a lot of time to do it. You just need to put the three parts together and plug it in and it's good to go.
Technology
The key highlight of the Stamina Avari is it's In Touch® Fitness Monitor. The fitness monitor adds life to this rower. You can handle pretty much everything you'll ever need.. from changing resistance (using the up and down keys) to choosing one of the 12 pre-set workout programs to tracking your calorie count, distance travelled, time spent, the intensity of your workout and your pulse rate during the workout..
Another high end rower that justifies its price and beyond. At a $200 price difference, the Avari gives a very tough competition to the Model D.
==>  Click here to See Today's Discount on Stamina Avari
Best Rowing Machine under $500
#3 Stamina Air Rower 
Stamina Air Rower is the best value for money rowing machine.
Build Quality
The machine is built upon a Steel frame and the handle is connected to the damper with a nylon strap. The seat is a bit over-sized which I personally liked because there's a lot of room to adjust yourself during intense workouts.
Technology
Surprisingly, even at a low price point, the Stamina Air Rower comes with a digital monitor with which you can track every aspect of your workout including your speed, the distance covered , time it was covered in and the amount of calories burned.
Price
The price is definitely one of the strong factors of this machine here.
Stamina Air Rower is priced at just $299 and no other machine within this price range can beat the performance and functionality that you'll get out of this rowing machine.
Pros
1. Affordable
2. Built in Wheels for portability
3. Multi-function electronic performance monitor
4. Monitor displays: speed, distance, time, and calories burned
4. Padded, upholstered seat
5. Textured handgrips
Drawbacks but not dealbreakers
1. Noise Level  : Even though this is not a deal breaker since the noise level is tolerable but when you compare it to high level rowing machines like Model D, you can really feel the difference.
2. Not suitable for people who weight more than 250 lbs.
==> Click here to See Today's Discount on Stamina Air Rower
Best Rowing Machine under $300
#4 Stamina Body Trac Glider 1050 (Best rowing machine under $300)
Stamina Body Trac Glider 1050 is the only piston powered rower that made it to our list.
Build Quality
The frame is built with steel with an aluminium beam and is pretty compact and light weight when compared to other rowing machines and thus can be easily stored when not in use.
Technology
The machine offers a small monitor to display the details of your workout like distance travelled, time spent while working out and the total number of calories that you've burnt during your workout.
Price
This machine is priced at a cheap $125 and is definitely a low-end entry level rowing machine for those of you who are just looking forward to give it a try.
PROS:
a. Real rowing (oar-like) action, rather than just pulling on a single T-bar.
b. Comfortable
c. Adjustable rowing tension.
d. A very sturdy, rigid, and well-built frame.
e. Easy to assemble.
f. Takes little room to use.
g. Very low cost (one hundred twenty dollars).
CONS:
a. The seat is not well padded.
b. The unit creaks and squeaks a bit until it is warmed-up.
==>Click here to See Today's Discount on Glider 1050 Rower
#5 ProRower H2O RX-750 Home Series Rowing Machine
ProRower is a classic water rower and though it's not comparable to other rowers from Stamina or Concept2, water rowers have their own advantages.
It makes sense to get it only if you you need one which uses actual water for resistance. Otherwise there are other options that will help you reach your goals faster.
Build Quality
The ProRower is well built from a solid framework to a comfortable ergonomic seat. There's little room for complaint when it comes to the design.
The footrest isn't as wide as you might want it to be but it's something you can work with.
Technology
The ProRower H20 RX-750 does features a digital monitor that can track the distance travelled, calories burnt and time spent working out.
However, there are a few key metrics like the heart rate monitor and the stroke rate that is questionable. They don't work like they should and the values are definitely inaccurate.
But I guess that's a key setback to water-powered rowers as we've seen with Natural water rower as well.
All in all, it isn't a bad rowing machine if you're looking for a water rower, however if that's not important to you then I'd definitely recommend either the Stamina Avari or the Concept2 Model D over it.
==>  Click here to See Today's Discount on ProRower H20 RX-750
#6 Xterra ERG400
If you've been looking into getting a rowing machine or any other home cardio training machine for that matter, chances are that you've never heard of Xterra and while it has been in the sports business for over making equipments like treadmills and spin bikes, their focus has been on serving tri-athletes.
Build Quality
The ERG400 is supported by an aluminium beam and the overall design and construction is aesthetically pleasing.
However, in all other aspects the rower screams of mediocre quality. The seat isn't something that you'll feel comfortable with over long workouts. It looks cheap and it is cheap.
The design and construction of the ERG400 is definitely not its strongest feature.
Technology and Performance
While we faced a little disappointment with the design aspect of this rower, there is no room for complaint when it comes to performance.
The ERG400 offers 16 levels of electronic resistance that can be varied using the LCD Console that comes integrated with the machine.
Moreover, you can track everything you'll need to improve your endurance. The monitor clearly displays how long you've been working out, how many strokes you've made, distance covered, calories burnt and the rate at which you were rowing.
The rowing experience is pretty smooth and there's no jerks or discomfort during the workout.
For a mid-range rower, it performs really well and that's why it made it to our list.
==> Click here to See Today's Discount on Xterra ERG400
How is a Rowing Machine Designed?
The basic concept of a rowing machine consists of a handle that is connected to a damper using a connecting cable.
The only difference that you'll see in various machines, in terms of design, is the way motion takes place while rowing.
Most commonly, you'll have the flywheel and the foot stretcher that are stationary and the motion will be handled by a sliding seat and is commonly known as 'Fixed head' ergometer.
Another variation would be where both the seat and the foot stretcher move together and this design is commonly known as a 'Floating head' ergometer.
Types of Rowing Machines
There are 4 different types of rowing machines when it comes to the functional design and these are primarily differentiated by the way they generate resistance and the intensity of the resistance that is generated.
Here are the four types of machines that you can choose from:
1. Air Resistance
This is probably the best technology present in the market right now this is probably the one you'll end up with.
Concept2 builds their machines around the same concept, this is what you'll see in local gyms and this is what I got for my personal use.
Here's how it works.
As you pull the handle, the spinning flywheel builds up resistance in the form of wind and thus the intensity of the resistance is directly proportional to the amount of force you apply.
This is what makes these the best option for people who are just starting out with rowing workouts.
2. Water Resistance
These type of machines are more popular among professional rowers as the friction and the resistance that is generated is very similar to what you would experience when you row in water.
These machines are definitely developed for athletes and those who are serious about competing professionally.
3. Piston Resistance
Piston resistance mechanism is common in the low-end machines and if you're just starting out and you're on a budget then these machine is probably what you'd want to go with.
As suggested by the name, the machine uses pistons to generate resistance that you'll have to work against and it generally works out well as an upper body workout.
4. Magnetic Resistance
Magentic rowers are the cheapest options in the market and while they're light and simple to use.
Since they use electromagnets to build up the resistance, they really do not offer the intensity of resistance that one needs for an effective workout.
This is good for light workouts and if you're looking forward to add 5-10 minutes rowing in your daily workout. However, these machines will not provide you the performance you need to really tone up and build some serious muscle.
You should also be concerned about other aspects about a machine like the amount of space it takes, how much it weighs, what level of workouts are you planning to do on them and how much can you spend for an effective workout.
Yes, there do exist trade-offs when it comes to size, price and performance and that is why we have selected the best machines from each category.
What are the Benefits of using a Rowing Machine?
I've been working out on a Concept2 Model D, for my cardio, the past 6 months and It has been truly one of the things that I'm actually excited about working out on.
Rowing machines give you a good variation from the traditional treadmill runs and if you plan on getting one for your home then listen to me and place it next to a window that has a good view. You'll never skip a workout again!
It brings a lot of stuff to the table and one reason why I use it daily is that it is a "full body workout" i.e. it is a compound exercise that involves a huge range of muscle groups and thus promotes muscle buildup in almost every part of your body.
Second, it burns a ton of calories and this is why I love it for my cardio. Did you know that an hour long session on one of these can burn unto 1000 calories.
5 Common Mistakes to Avoid while Rowing
A lot of people like working out on a rowing machine but just like any other workout, if you do not do it right then you can do more harm than good to your body.
Since, rowing is a pretty simple movement.
Here are 5 common posture and movement mistakes that you need to avoid to make sure you're not doing it wrong.
1. Not checking the Damper Settings
Just like any other workout, make sure you start out at a low intensity and if it looks too low then consider it a warm up session and get your posture and positioning right.
Once you've figured out what is the right posture and seating arrangement, then you can slowly dial up the resistance to make it challenging.
You can start at three and depending upon your level of fitness, dial it up to 5.
2. Not using your lower body
Most people purchase the rowing machine since it offers a complete body workout but they end up using just their upper body while working out.
This is not right. Ideally, 60% of your effort should be put in through your legs and the rest should be powered by your arms and torso.
3. Not rowing in the right way
Rowing is a compound exercise and thus requires you to simultaneously use different body parts.
Here's the exact way you need to do the row:
Push with your legs.
Pivot backwards in a slight backward leaning position.
And pull the handle with your arms.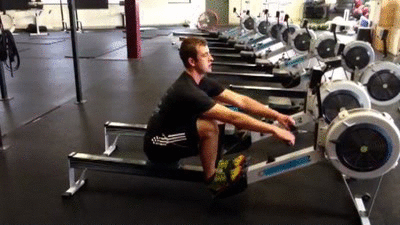 4. Hunching back during the stroke
Make sure you have your chest out and back straight while working out. Hunching can cause injuries to your back and lower back area.
Please refer to the image provided in the last point for the right way to row on a machine.

5. Using momentum to complete rows
This is a common mistake when it comes to working out in general and happens when you're trying to pull/push/lift more weight than you're capable of.
Make sure you adjust resistance at a level that you can work out on and do not have to use momentum or jerk your body to complete the row.
A better posture and right movement is critical to your safety and growth of your muscles. Make sure that the level of resistance you choose is challenging but allows you to maintain good posture and enough reps to be effective.
Avoid making these 5 mistakes and you'll row your way into new levels of stamina and endurance while building up the beach body.
Please make sure you're in good health to work out on a rowing machine. Please visit healthfinder.gov to learn about the basic types of activity you can do to get started.
3 High-Intensity Rowing Workouts for Maximum Results
Once I received my rowing machine, I couldn't wait to get on it and row myself to six pack abs.
The only problem was that I didn't know what would be the best way to approach my workouts.
Now, I workout 3 times a week, 45-60 minute session each on my rowing machine and I like to workout in a different every session.
Here are the three workouts that I'm currently following for my 3 sessions every week and if you're someone who's interested in maximum results then you really need to take notes here.
1000 meter meltdown
I first read about this workout routine in the Men's Health magazine and it is an amazing way to test your limits.
The point is to row for 1000 meters.
Now this can be challenging depending on how long you've been working out but here's the recommended way of going about it:
Warm up for 5-10 minutes
Set the resistance settings to medium
Divide the complete 1000 meter row into 3 parts
Vary your Strokes-per-minute with every interval
Take 3-4 minutes of rest between each set of rows.
Playlist Punisher
It's just what it sounds like, rowing to the beat.
The goal here is to alternate between different intensities of workout and really force your body to push and recover at fast intervals.
Here's what you need to do:
Set up a 30 minute up-beat workout playlist.
Warm up during the first song Set the level to medium
Increase the intensity of rowing (upto 30 strokes per minute) during the chorus and decrease the intensity when the chorus ends.Repeat for every song.
This is the same approach I used to use while working out on a treadmill or while running outside.
You'll not know when you are done with your workout and find yourself sweating and motivated to keep pushing.

Olympic Challenge
This is the mother of all rowing machine workouts and can be a real ball-buster when it comes to figuring out how fit you actually are.
You would really have to warm up for at least 10 minutes for this one.
The workout is divided into 5 intervals with short amount of rests in between and I would recommend to go for it only after 3-4 weeks of working out on your machine.
Here's how you need to go about it:
Interval 1: Sprint for 1,000 meters, rest for 3:00
Interval 2: Sprint for 750 meters, rest for 2:30
Interval 3: Sprint for 500 meters, rest for 2:00
Interval 4: Sprint for 250 meters, rest for 2:00
Interval 5: Sprint for 750 meters, cool down
These were the three workout routines that I follow while working out and as you might have judged by now, I've never felt better about my body and myself.