Find our Elliptical machine reviews, ratings comparison charts and buying guides to help you buy the perfect elliptical machine for your workout.
If you're looking for the best elliptical machine out there then Sole Fitness E35 Elliptical Machine is our top recommendation. It can be an expensive machine for quiet a lot of us but it is definitely worth every dollar.
However if you are looking for a two in one hybrid machine then Proform Hybrid Trainer is our top recommendation. You get the benefits of a recumbent exercise bike as well as an elliptical.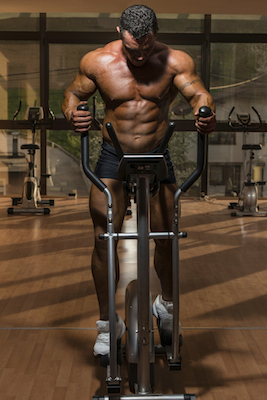 Elliptical Machines are capable of providing full body workout without risking injuries and thanks to the various setting and features that these machines offer, it is a good fit for people of all fitness levels.
Elliptical Machines that we recommend go beyond being simple cardio machines and with the help of different settings, you can achieve different targets. So before buying an elliptical machine you need to be sure of what you want from it and what amount you are willing to spend on it.
⇢ THE WINNERS: THE BEST ELLIPTICAL MACHINE 2020
#1 Recommendation : Sole Fitness E35 Elliptical Machine
TheSole Fitness E35 is the best elliptical machine in its class. The trainer excels in pretty much every aspect that we've used for comparison, however, it comes at a price.

Sole Fitness E35 Elliptical Machine Price: $1,499.99 Buy Now from Amazon
Full Disclosure: We earn commission if you click this link and make a purchase, at no additional cost to you. Last Updated: February 22, 2020
Here are the top features that this beast of a machine has to offer:
Adjustable Components
There are various adjustments which you can make in the machine to customise the workout as per your personal needs.
First the stride length can be changed from 20" to 22". This change will in stride length will make your workout much more extensive. Next the foot rests have an inward slope of 2 inches.
In case you have flat feet or high arches, foot pedal can also be articulated by changing their inclination. So all in all with these adjustable components not only your workout improves but also the machine adjusts to your needs. This isn't something you need in a lot of elliptical trainers
Resistance Levels
With the Sole Fitness E35 you get 10 different resistance levels. These resistance levels are is basically built up using fly wheels which uses powerful electro magnets. This helps you to get near friction-less resistance.
You can change the intensity of your workout by changing the resistance levels. You can further amp up the intensity by changing inclinations up to 30 degrees.
Convenient Use
The E35 model offers a lot of tracking features which are displayed on the LCD panel. The panel can be adjusted to your eye line. So everything about your workout is right in front of you.
There are two grips on the handle bar. Also you can increase and decrease both the resistance level and inclination from buttons present on the handle bar.
Thus, you can increase or decrease the level of your workout without stopping. The model also comes with 10 preloaded workout programs.
This machine can accommodate up to 375 pounds.
When you first receive the machine it will take some time to assemble this thing. We recommend you to follow the instructions to the point. The machine is also quite heavy, weighing at 215 pounds.
Overall this machine has everything you would want from an elliptical machine. This feature packed machine, provides high stability, great tracking, adjustable components and you get the best workouts.
If you are serious about making a long term investment in your health and fitness, then by all means, go for it!
==> Click here to See Today's Discount on Sole Fitness E35 Elliptical Machine
2nd Recommendation : Proform Hybrid Trainer
The two main reasons why this machine has been featured in our list are its versatility and its price. It's a 2 in 1 trainer with high end features. Here is a rundown of the top features which make it the best bang for your buck.

ProForm Hybrid Trainer Price: $432.26 Buy Now from Amazon
Full Disclosure: We earn commission if you click this link and make a purchase, at no additional cost to you. Last Updated: February 22, 2020
Versatility
It is 2 in 1 machine, it is a recumbent bike and an elliptical machine. This helps you in do two different kinds of cardio workouts on the same machine.
It is easy to adjust the pedals and the support provided while using bike is remarkable.
Computational Features
Apart from the hybrid it also has a "Target Pacer". You need to feed your weight loss goals and there is an indicator light which guides you to increase or decrease your pace. We found this feature to be quite convenient. This is aided by 14 different workout apps. You can easily choose and change your workout module. Resistance levels can also be changed easily with the help of a button. This model offers different resistance levels. The convenient use makes your workout a lot simpler.
Price
Even though we don't list price of a model as a feature but in this model it deserves a mention. You can get this machine for 350$ (i.e. 350$ for 2 machines). This in our opinion is steal even for an elliptical machine with such features. This machine is worth every penny.
There are however some issues too. Many users find that the stride length is small. This decreases the effectiveness of the machine. Also assembling this model will take up a lot of your time.
However at the price these issues are not that relevant. You get some excellent features and flexibility of working out on 2 machines. It provides good support and is stable. The transportation wheels help in moving this machine with ease. We will recommend this machine to anyone who like to have intensive and diverse workouts.
==> Click here to See Today's Discount on Proform Hybrid Trainer
3rd Recommendation : Nautilus E614 Elliptical Trainer
This is a relatively new model launched by Nautilus and in a short span of time it has gathered attention. It is one of the few models that boasts on its computational prowess. It also packs a lot of features which make it an excellent mid-range elliptical machine.

Nautilus E614 Elliptical Trainer Price: $699.00 Buy Now from Amazon
Full Disclosure: We earn commission if you click this link and make a purchase, at no additional cost to you. Last Updated: February 22, 2020
Dual Track LCD Display
Nautilus E614 provides a lot of tracking features and all of them are displayed on a LCD. The panel also has different settings which can be adjusted right from the panel. This makes the use quite convenient.
The company however also boasts about its Dual Track LCD display which basically gives you space to keep your IPad and watch that.
There is also a second screen which allows you to track different parameters like distance, time & Calories burnt. This allows you to indulge in your favourite show and workout at the same time.
Virtual Trainer
Thanks to a powerful computer this machine can act as a virtual trainer. It comes preloaded with 22 different workout programs, which is the most for any machine that we have tested. All your data is sent to apps like "my fitness pal" thanks to nautilus connect, so you can track your workouts seamlessly.
Also you get 20 different eddy current resistance levels which can make your workouts more challenging. These levels along with the workout programs assist you to train better.
Excellent Stability
This model provides excellent stability and causes no harm to your body. High speed drive system and perimeter fly wheels assist allows you to keep your body balanced even when you are indulging in intense workouts.
The pedals also accommodate your feet well. This machine can handle weight up to 300 pounds.
However if you wish to change the inclination, you would have to do that yourself. This forces you to stop your workout and change the inclination.
We suggest you to set the inclination level beforehand and then change the resistance levels while working out.  This machine is also on the heavier side, but it has solid and durable built.
This model provides high end features in a mid-range price bracket. Our trainers give high ratings to this machine. If you have little idea about how much you should work out or if you want to track your workout minutely you can go for this machine. Highly recommended!
==> Click here to See Today's Discount on Nautilus E614 Elliptical Trainer
4th Recommendation : Exerpeutic 1000Xl Heavy Duty Magnetic Elliptical
Exerputic 1000Xl is a simple magnetic elliptical machine yet provides low impact powerful workout. This machine has a minimalistic design which has a simple elliptical motion. This helps in providing better stability to your body.

EXERPEUTIC 1000XL Heavy Duty Magnetic Ellipticals with Equipment Mat Price: $217.98 Buy Now from Amazon
Full Disclosure: We earn commission if you click this link and make a purchase, at no additional cost to you. Last Updated: February 22, 2020
Heavy Duty Design
This model can withstand up to 325 pounds. Heavier individual usually find it difficult to workout constantly on machines. Pressures on their ankles and joint is prevalent. However this machines has a traditional elliptical motion eliminating any bouncy experiences. There is significantly less pressure on your knees, ankles and joints. This makes this machine highly stable.
Resistance Level and Ease of Transportation
You get 8 different resistance levels with this model. The resistance control is manual and you would have to rotate the knob. We found no problems with the effectiveness of these levels. However there is a significant change in tension when you move from level 5 to level 6 and upwards. For its size this machine is not that heavy. It weighs around 90 pounds. If you wish to transfer it from one place to another you can do that easily. It has transportation wheels at the bottom for room reallocation.
Tracking
You get pulse monitors with this model. These are attached to the stationary handles. So you can monitor you heart rate at any moment. It is displayed on a large LCD. You can also keep track of other parameters like distance, time and calories burned. So if you have a heart condition the pulse monitor might come in handy.
On the downside, there is no preloaded workout programs in this machine and most of the adjustments have to be done manually. The stride length is also not that impressive. Having said that it serves it purpose of stress free workout.
Surely this model lacks in some computational features but it does provide solid workout. It is built for a heavy duty performance. It also takes care of your security and provides a near flawless elliptical motion. At the price range we would say this machine is bang for your buck.
==> Click here to See Today's Discount on Exerpeutic 1000Xl Magnetic Elliptical
5th Recommendation : Stamina In-Motion Elliptical Trainer
Our trainers have name this as a "No Excuse Machine" and they have a reason for it. It is a small lightweight compact machine which you can use anywhere.
It doesn't cost much and pushes away all the excuses you have for not working out.

Stamina InMotion E1000 Compact Strider Price: $101.77 Buy Now from Amazon
Full Disclosure: We earn commission if you click this link and make a purchase, at no additional cost to you. Last Updated: February 22, 2020
Compact & Portable
The weight of this machine is easily one of the foremost reasons which makes it an ideal choice for a lot of users. The weight of this machine is just 24 pounds. The light weight of this machine makes it extremely portable.
You can even carry this to your office. It is also very compact, and can be stored in your closet also. It is ideal for individuals who have space and time constraints. You can peddle on this machine even when you are sitting.
So if you are working for long hours you can keep this under your desk and use it.
Adjustable Resistance
You can change the resistance or tension by rotating the small knob in front of the machine. At this resistance which this model offers was quite impressive. Even though it doesn't use magnets to provide the tension, but we still found the increase in tension to be stress free.
The pedals are also bidirectional which help you target different areas of your body. You must understand that the level of intensity cannot be compared with that of high end machines but for the price you get decent results.
Exercise while you are sitting
Since this machine doesn't have any handlebars you can work out on this even while you are sitting.
We were at first apprehensive about this, but our trainers found it to be just as effective. You get a digital monitor also which tells you about duration of workout and calories burnt.
But having no handle bars also causes some problems. If you are working out in a standing posture you may face some difficulties.
It may affect your posture and stability is also not that great.
Also some complaint that if sanding workout degrades the performance of this machine overtime. You also don't get complete analysis about your workout and you just have to rely on the calories burnt counter.
Most users were happy with the results of this machine and so were our trainers. It is an ideal elliptical machine for apartments, and you can also carry it anywhere.
Since it can be used even when you are sitting, the machine proves to be quite convenient. It is hands down the best machine in the price bracket
==> Click here to See Today's Discount on Stamina In-Motion Elliptical Trainer
The Ultimate Buyers Guide to Elliptical Machines
Every elliptical machine have certain common features which differentiate them from each other and you can go through them and decide what features will make up your perfect elliptical machine.
Machine Stability
This is most important feature you need to consider while buying an elliptical machine. While working out you should not be concerned out about the machine, and that is possible only if machine is stable. Earlier heavier machines ranked better in terms of stability but with design improvements smaller and compact machines have also started to provide high levels of stability. The idea behind stability is that you should feel comfortable. Our recommendation for people who are heavy would be to go for advanced heavier machines as they can accommodate and balance your weight better.
Resistance
Next up is the resistance levels of the machine. This decides how challenging your workout would be. Obviously higher resistance levels offer more extreme workouts. Currently manufacturers provide the resistance majorly through two broad technologies:-
Fan Wheel Resistance – Low cost elliptical machine technology, provide gradual smooth resistance increase.
Magnetic Resistance – Technology used in expensive machines, provide consistent and natural increase in the levels.
Computer Technology
Elliptical machines now also provide a lot of data about your workout. This can help you evaluate how well your workout is going. Since most of you would be using these machines in your homes, feedback can be handy. Some machines also have pre designed workout settings which are optimized to achieve targets like weight loss. The computing power of a machine is directly linked with the price, so if you want more virtual assistance 300$+ machines should be your preferred choice.
Machine Adjustments
There are various adjustments that are accustomed with such machines like the stride length, incline and foot pedal adjustment. Some machines provide much easier and convenient settings to make the changes while others offer manual adjustments.
So now we present our top 5 picks for best elliptical machines.