Find our Bike Trainer reviews, comparison charts and buying guides to help you buy the right Bike Trainer for your home workout.
The trainer that can help you shed the most calories and is our top recommendations while going indoors is the Kinetic Road Machine 2.0 Fluid Trainer.
However if you're willing to back down a little on performance for something more affordable then the Magnetic Steel Bike Bicycle Indoor Trainer is the best value for money trainer you can buy.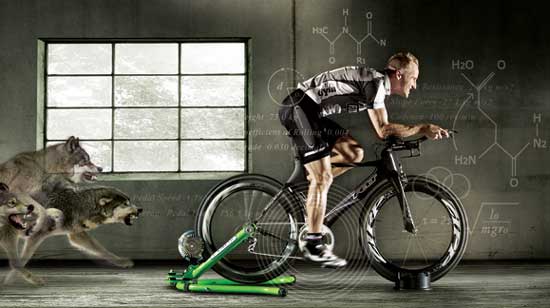 Bike trainers are used to train indoors. You can connect the rear wheel of your bike with the stand and then pedal. These trainers provide certain resistance too allowing you to change gears and accelerate.
The resistance makes the indoor experience close to an outside one. Usually these trainers are bought to use during winters when it is difficult to bike outside.
However you can use them any time of the year and they can prove to be excellent companions for achieving your fitness goals. Here is the rundown for the best bike trainers available today.
Top Recommendation : Kinetic Road Machine 2.0 Fluid Trainer
This model is known for giving an almost outdoor riding experience. It uses advanced fluid resistance technology. 
Progressive Resistance

Kinetic Road Machine 2.0 Bike Trainer Price: $349.00 Buy Now from Amazon
Full Disclosure: We earn commission if you click this link and make a purchase, at no additional cost to you. Last Updated: February 22, 2020
The bike offers progressive resistance which means that as you go faster, you would have to encounter more resistance. This progressive resistance gives you an almost real life experience.
This allows you to go through different workouts right from your home. The trainer makes use of a flywheel and resistance unit which contains high viscosity medical grade silicone.
This means that there would be no effect on fluid as the temperature rises. The roller easily accommodates the rear of your wheel.
Fluid resistance trainers are generally preferred by professional riders and the little issues that such trainers have faced in the past years have been solved by the upgrades of this particular model.
No Heating issues
The roller of this model is 3 inches wide, making it large enough to not only mount your rear wheel easily but also helps in dissipating heat over a larger surface area. The roller is connected to the fluid resistance unit through magnetic couplers.
These magnets are arranged in such way that when you push your bike to higher speeds there is a lot less pressure on the resistance unit.
The casing is also spill proof and you can train on this bike trainer for years without worrying about any spillage.
Noiseless Operation
The designers have done a great job to make it a noise free workout and is achieved with the help of of magnetic couplers and premium grade fluid.
This model also comes with lifetime warranty.
When you first get the bike you might have to spend some time to make adjustments to suit your needs. Once you are done with the first time, you can keep the same settings for the rest of your workouts.
This trainer can accommodate most bikes but to be exact it can fit up to 29 x 24" tire sizes. This trainer has a near flawless design and if you want the same intensity of a real bike ride, then this is the trainer for you.
==> Click here to see Today's Discount on Kinetic Road Machine 2.0
2nd Pick : Magnetic Steel Bike Indoor Exercise Trainer
This is perhaps the most affordable bike trainers. It is magnetic resistance trainer and can help you train indoors if the weather outside is bad.

Sportneer Bike Trainer Stand Steel Bicycle Exercise Magnetic Stand with Noise Reduction Wheel, Black Price: $89.99 Buy Now from Amazon
Full Disclosure: We earn commission if you click this link and make a purchase, at no additional cost to you. Last Updated: February 22, 2020
Internal Resistance
This trainer has 5 resistance levels. You can set the resistance level easily. Using advanced technology this trainer also provides progressive trainers. Although it won't be as smooth as a fluid trainer but for the price you can't complain.
The magnets do a pretty good job and adjust well while changing speeds. Most customers have found that the magnets work consistently through the years. 
Travel Friendly
One of the unique features about this trainer is that can be easily stored and transported. It is lightweight and its stands can been folded easily.
The trainer makes use of premium grade which is durable and lightweight. The overall size of the frame is not that large, so you can take this along with you when you travel.
Stable
Some cheap bike trainers have stability issues, but not this one. Although, the bike withstands most of the weight of the rider but still the trainer should hold your bike well, so that it doesn't fall off. This model does that perfectly. For the price we were quite impressed with its stability.
Some users might find the operation of this bike slightly noisy. Since this magnetic bike trainer you can expect some noise.
But it is not that overpowering. If you are listening to music the noise will not cause any disturbance.
This model is a great indoor bike trainer. Sure it would not be as close as outside biking experience but if you want that you are better off with the fluid trainers.
But if you want to still have a good exercise inside, and if the weather outside is not suitable you can rely on this trainer. It is quite affordable and long lasting.
==> Click here to see Today's Discount on Magnetic Steel Bike Indoor Exercise Trainer
3rd Recommendation : CycleOps Wind Trainer
Cycleops is a wind resistance trainer which uses a simple design. Wind resistance trainers have been used for many years and this particular model is a great option for exercising indoors.

CycleOps Wind Trainer, Black Price: $135.99 Buy Now from Amazon
Full Disclosure: We earn commission if you click this link and make a purchase, at no additional cost to you. Last Updated: February 22, 2020
Tested Technology
Wind resistance technology has been around for many years. It offers steady resistance which increases when you shift to higher gears. This model works well if you like to take sprint workouts. It offers considerably higher resistance at higher speeds. The fans are made of zinc which add to the resistance of the flywheel.
Durable and Less Space Requirements
It is easily the most durable wind trainer available. It has a solid metal frame which can mount both mountain as well as road bikes. It has a weight rating of 300 pounds. It also comes along with folding legs, so you can store it easily. The legs can also be adjusted according to the floor. You also get life time guarantee with this model.
On the downside, this model does make a lot of noise. Over the years, with continue use, the level of noise keeps on increasing. However, if noise is not a big issue for you and you want consistent workout you can go for this model.
==> Click here to see Today's Discount on CycleOps Wind Trainer
4tH Pick : RAD Cycle Products Indoor Portable Magnetic Trainer
This model makes use of stands which give you extra support while riding the bike. The stand allows you train on heavier bikes also. We tested the stability of this model with some heavy individuals. They were able to exercise without any discomfort. The overall frame look sturdy thanks to good material choices.

RAD Cycle Bike Trainer Indoor Bicycle Exercise Portable Work Out Cycle with Smooth Magnetic Resistance Allows You to Work Out with Your Bike Price: $64.99 Buy Now from Amazon
Full Disclosure: We earn commission if you click this link and make a purchase, at no additional cost to you. Last Updated: February 22, 2020
Portable
It is easily the thinnest trainer after you fold it completely. It is also not that heavy and weighs at just 17 pounds. So if you are going on some trip or camping you can take this with you to get warmed up before the bike ride.
The resistance provided is similar to other magnetic resistance trainers and we are satisfied by its performance.
However, it does make a lot of noise. IT is more due to the construction of the bike trainer. The joints and the flywheel tend to make a lot of noise. It is the nosiest bike trainer in our list.
But, other than the noise, it is an affordable bike trainer which offers decent performance and is extremely portable.
==> Click here to see Today's Discount on  RAD Cycle Indoor Magnetic Trainer
The Complete Beginner's Guide to Bike Trainers 
There are three broad categories of bike trainers and it basically comes down to type of resistance provided. You can choose which category suits you the best.
Wind – They have fan which is driven by the cyclists. The faster the biker pedals, more the resistance. They can provide progressive resistance but there is no added resistance. Trainers using the wind resistance mechanism are generally the cheapest however they can prove to be quite noisy.
Magnetic – They are the mid-ground while considering bike trainers. They have two opposing magnets which provide the resistance. They provide almost linear resistance, but are slightly less durable.
Fluid – The final and most advanced set of bike trainers are the fluid resistance trainers. They have a flywheel along with a high viscosity fluid. In such trainers you have the maximum control over the resistance. They have silent operation and are durable. Some fluid trainers however experience certain overheat issues.
If you go for a bike trainer, they are certain accessories you must consider, we have prepared the list for the top accessories you need to buy.
Riser Block
The rear wheel of your bike is lifted by the bike trainer. Similarly it is important to life the front end of the bike too at about the same height. This is done to provide stability and comfort while riding the bike on the trainer. They are many options available but the best is the Sunlite Forza Riser Block. It is made of solid material and accepts up to 27" wheels. It is also very cheap and you can get it for around 11$.
Mat
If you don't want to cause any harm to your floor or if you don't want to disturb the people living below your apartment, we recommend to use a mat. Everything goes over the mat. It also helps in absorbing sweat thus keeping your floor clean. An affordable choice for this is Body Solid Super Mat RF34B Bike mat. It is made of solid PVC material which also absorbs the vibrations of the trainer.
Sweat Net
The final accessory which you can buy is the sweat net. It is attached on your bike. It helps to absorb the sweat. Since you will be using the trainer indoor you don't want the floor to get dirty. Even though it not big in size, it absorbs most of the sweat you might drop. Top recommendation for a sweat net is CycleOps Bike Thong Sweat Catcher.
If you are buying a trainer such accessories can come in handy.