Every person wishes to remain health-conscious throughout. However, a lot is required to stay such a life. Commitment to exercises is among the best ways to achieve your workout goals. The market is full of exercise equipment for daily workout sessions.
Treadmills are among them in the list, a piece of essential and desirable exercise equipment worth investing in. However, investing in the best shock absorbing treadmill requires digging deep into the pocket. But why are treadmills so expensive? Let's get information about why investing in treadmills has turned out a big challenge to many.
Why are Treadmills so Expensive
Exercising is a way of maintaining a healthy and active life. Doing exercise is accomplished in different ways. You can choose to do workouts at home or go to the workout center. Whichever the way you take, all that we aim for is maintaining a healthy and active life.
The treadmills come in among the first equipment that people use to do their daily workouts. However, if you compare treadmills with other exercise equipment, they seem to be a little bit expensive. But why are treadmills so expensive?
There are many things and factors alike that are behind the high pricing of this exercise equipment. Continue reading the article to get a hint of why treadmills are expensive. Also, you will get a clear idea of the Best Shock Absorbing Treadmill.
Controlling
This is one of the critical features of this exercise equipment. All treadmills come with control panels designed with advanced technology. Treadmills have a console screen where all user exercise data is displayed. Adjusting treadmills is another hectic thing of all. Most of this equipment is linked to Google maps. Moreover, they have a fitness tracking app.
Incorporating all these things in a machine needs a lot of money. The money spent by the manufacturer to get everything in place directly translates to its final price tag.
Motor and Belts
These are the most crucial treadmill components. They are made of varying quality, and their output also differs alike. Quality is a deterministic element of the cost of equipment. High-quality treadmills provide better service, and they will probably cost high. Let's take an example of a treadmill with a 1.5HP motor and a 3HP type. The 1.5HP motor treadmill's average cost is about $500, while the 3HP motor goes for around $2500.
Don't expect to get a quality treadmill cheaply. A quality model means a durable, better performing option and, at the same time, better price. On the other hand, a low-quality model means less lasting, lower performance, and lower price range.
Manufacturers of this equipment aim for better service to their clients. They make these machines using the best quality belts and high-horsepower motor. Since these components cost high, they will as well set high price tags on their products.
Branding
The manufacturer uses a lot of money to promote the machine they produce and establish the brand. The amount they incur on carrying out any promotional activity recoups through the machine. Inclusion of the branding costs shoots the price of the treadmill.
Let's, for instance, look at the popular brands out there. They spend a lot of money marketing their products before they name the products on the household list. This is what happens to treadmill manufacturers. They set their products high considering the manufacturing costs incurred in the process. There are also additional costs included that makes the price even higher than expected.
Weight Capacity
Various treadmills in the market have different weight capacities. The price of treadmills also varies, considering the weight capacity of the treadmill you intend to purchase. The components used to assemble the machine determine the weight capacity of that particular item. A product made of a durable belt, high horsepower motor, and other parts possibly has a high weight capacity. The high weight capacity treadmills cost higher than the low weighted options.
The warranty
This is also another factor that is behind the pricing of treadmills. Companies backing their products with lengthy warranties mean they produce quality products. Some companies back their treadmills with short period warranties while others even lifetime options. So, treadmill prices are high considering the lengthy warranties the manufacturers back the machines, which translates to overall quality.
After getting a hint why the treadmills cost high, it's essential to look at a few tips to consider when purchasing them. The treadmills are expensive, and there is a need for commitment to get the best from them. Let's go through the tips below to enable you to choose the right treadmill.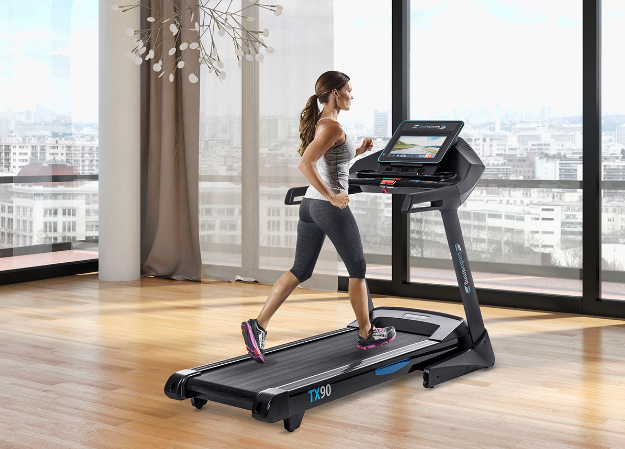 The Cost
This is among the things an individual should look at when getting a machine to use. The treadmills are available with different price tags. Cheaper models cost around $500 while the expensive ones go up to $3,000 and others even more. If you just need a basic machine, then you can go for an affordable model. However, as a thumb rule, you get a product considering the amount you need to spend on it. Therefore, before you purchase these products, look at the rebates and sales before deciding on a particular option.
Space
Another vital factor to consider is space. The folding treadmills are known to be smaller models in the market. However, they can take up a significant part of your space, especially when they are in use. Exercisers are required to leave sufficient space around the machines when doing their workouts. This prevents them from injuries in case they fall off while exercising.
Moreover, most of these machines are heavily weighted. Therefore you need to prepare where to place them before making a purchase. Additionally, always keep treadmills away from pets and children to prevent them from getting injuries.
Stability
Treadmills are different and affect people's bodies differently. Therefore, before making a purchase, it's essential to test them to fit your body. Besides, test the machine to get a model that guarantees a smooth walk while exercising. The belt of the treadmill you choose should also be wide enough to make sufficient and comfortable strides.
Conclusion
Why are treadmills so expensive? There are many things behind the high cost of treadmills. The high cost of treadmills results from the components it houses, branding costs, warranties, quality, and other things. However, they are great machines for exercise if you need to stay a healthy and active life.