Exercise bikes are great for a cardio workout; also strengthening the upper body, core, and leg muscles. Riding an exercise bike is effective for burning calories, lungs, and heart. People of all ages can use this with convenience and safety.
Exercise bikes are getting popular for home workouts, and most people are considering buying this. But, after buying they get confused about the duration. Stick to this article if you don't know how long should I ride an exercise bike. From this article, you will get all this information.
Exercise Bike
Generally, an exercise bike is defined as a popular home fitness equipment. It is the best way to lose weight, improving knee or leg joints and health quality. You can choose among the upright, recumbent, dual-action, and spin bikes. All these bikes take less place that is ideal for the home.
In addition, these bikes can handle any weight and help to fast weight loss. You can get the Best Heavy Duty Exercise Bike for Up to 500 LB. Overall, an exercise bike suits everyone's needs and a great way to keep fit from the home workout.
How Long Should I Ride an Exercise Bike?
Whether you own or consider buying, a common question arises: How long should I ride an exercise bike? Well, as a beginner, you can ride 20 to 30 minutes per day or 4 to 5 days a week. Start with low intensity for 5-10 minutes. After that, switch to medium intensity for 5 minutes and then high intensity for 2 minutes. Follow this process for an entire workout session. But remember one thing, for the last 5-minute paddle at a low-intensity level.
To lose weight, you have to exercise harder and add more time to the workout sessions. When the intensity level increases, you should increase the time up to 60 minutes. Longer rides help to burn more calories and build endurance. Also, in a shorter amount of time, this high-intensity workout can boost up stamina.
You can try HIIT workouts for 30 to 45 minutes two days a week. It will help you to get a perfect muscle definition. For beginners, 20 minutes is enough to gain confidence and get used to it.
Riding Tips for Weight Loss
If you want to use an exercise bike for weight loss and maintain a healthy life follow the below tips. These tips will help you to lose weight faster.
Increase Intensity
The main key to losing weight is improving the intensity level. Include HIIT into your workout sessions, and every couple of minutes, alternate between high and low intensity. It will burn maximum calories that is ideal for weight loss.
Use Heart Monitor
You can sustain proper pacing with the exercise bike workouts by monitoring your heartbeat. It will help you to keep burning calories as much as possible.
Resistance
To enhance physical fitness, you should increase the resistance level. By sustaining the intensity and increasing the resistance, you can easily improve the metabolic rate.
Spread it Out
Try to keep the metabolism constantly working out for you by spreading high-intensity workouts. Always do 15 minutes of high intensity riding in 45 minutes of workout. As a result, your metabolic rate will maximize, and your body will burn calories all day.
How to Fit in an Exercise Bike?
Always choose a bike that is sustainable and comfortable. It can be tough to get a bike that perfectly fits your body. If you consider the below features, then you can easily get a comfortable bike.
Seat Height
While choosing a bike, make sure its seat height perfectly matches your body. There is a technique that you can follow to match the seat height. Just start hopping sitting on the bike. If your knees bend about 5 to 35 degrees, then it is the perfect height for you.
Pedal and Handle Distance
To ensure comfortable riding, confirm that there is enough space between the handle and paddle. It will save your knee from knocking with the handle. While buying, check the handlebar and paddle position adequately. For smooth pedal stroke, you can look for a bike that comes with a pedal strap.
Display
A brighter display can show you the speed, burning calorie rate, heart rate, distance, resistance level, etc. So, choose a bike that has a bright display with easy control buttons.
Comfort
An exercise bike that comes with a padded seat, larger seat, padded handles, backrest, etc., can provide more comfort while exercising. The padded seat will ensure comfortable sitting, and the padded handle will allow proper grip while riding. With a backrest, you can ride with ease and won't feel any back pain after riding.
Accessories
Nowadays, exercise bikes are designed with built-in fans, water bottle holders, sound systems, mobile holders, and many more. You can choose as per your requirements and ease.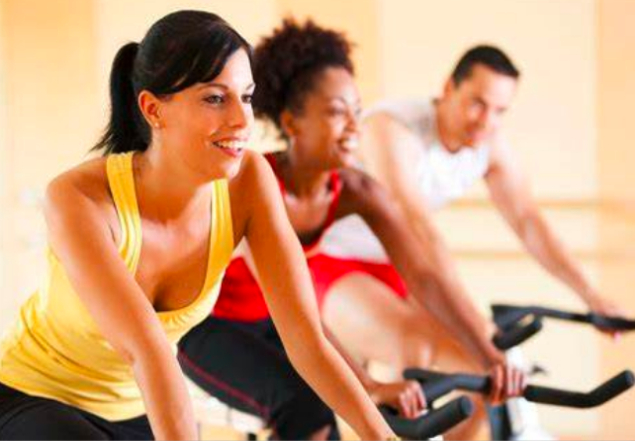 Benefits of Riding on an Exercise Bike
A simple exercise bike can provide a massively efficient workout with huge benefits. Some core benefits are given below.
Strengthen body muscles as well as the best way for toning legs.
Allows interval training to make you fit for intense exercise.
Provide a cardio workout with a low impact that is favorable for joints.
Burn calories faster that are very effective for weight loss.
Boost 20 percent energy level and decrease 65 percent fat.
Regulate proper blood pressure and strengthen lungs and heart
Most useful to diminish any kind of disease risk and cardiovascular exercise.
Its compact size allows you to fold, carry, and keep it anywhere.
It needs less maintenance and perfectly fits in any room.
Conclusion
Using an exercise bike can make you fit by burning the calories of your body. You will enjoy riding these bikes because they offer many comforts and customization. People find it like an asset when they see the difference in their weight and health after using this bike.
By knowing How long should I ride an exercise bike, now you can acquire the best result? It will boost energy, promotes heart health, regulates blood sugar level, and more than anything keeps you healthy.