Stamina InMotion Rower is an affordable rowing machine, which costs around $125. Despite its low price the machine does not compromise with the performance and is a very good option for those who are trying out the rower for the first time before investing in more expensive and professional machines.
This rower allows you to effectively perform the full body workout. Indeed, this rowing machine is very much capable of providing a testing cardiovascular training sessions that will aid you in eluding some serious medical conditions like elevated blood pressure, diabetes, obesity, clogged arteries and certain types of cancer, among others.
This particular model is exceptionally easy to operate and can help you to lose up to 1000 calories. This means you can shed around 10 pounds of weight in just few week times, which is great news for dieters and for those who are trying to get rid of body flabs.
The best thing about this machine is that it applies very less pressure on your joints which makes it ideal for the non-athletes, especially obese and elderly people. Contrary to other rowing machines, this one takes the weight off the knees and joints which minimizes the risk of soreness and join pain, and allows you to exercise for longer duration of time.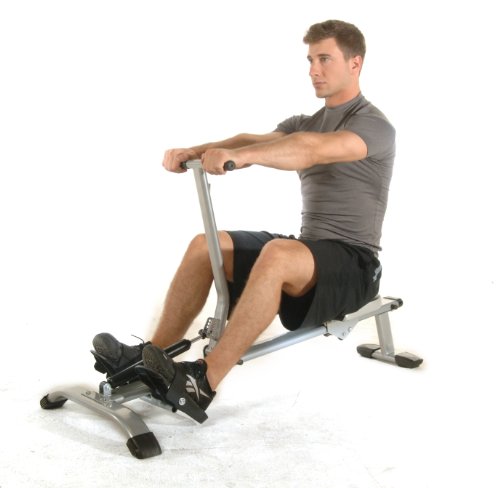 About the Company
Stamina Fitness was established in 1987 and is considered as one of the first companies that made house fitness equipment popular and boosted their sales.
This company is committed in delivering the best and is often applauded for its outstanding customer support.
They boast of their wide distribution channel that includes TV shopping networks, Sporting good dealers, internet retailers, mass merchants and catalogs.
Stamina also manufactures other popular rowing machines such as Easy Glide and Body Trac Glider along with this model.
Features
The Stamina InMotion Rower has got a decent rowing position and oar-like arms instead of regular pull-handles. This oar-like arm imitates the motions of rowing and gives you the sensation of rowing across the actual stretch of water which makes the rowing workout an astonishing experience.
This model has relatively small but easily readable LCD screen that shows you the exact details of workout-related data such as how many calories you've burned, stroke count, the time of your session and other important information that keep you motivated and help you track your overall progress.
InMotion Rower offers 5 levels of resistance which encourages you to challenge yourself with different type of workout instead of restricting yourself to the same resistance level.  This diverse workout session will keep you from getting bored of doing repetitive exercises and will enhance your metabolism and stamina that will improve your muscular strength over the time.
Product Specifications
Hydraulic resistance
5 resistance levels
250 pounds of maximum user weight
Multi-function monitor
Model number – 35-0123
Comfort and Ease of Use
This rowing machine has been built with a super strong steel body that ensures the longevity of the product, allowing you to benefit from its features for several years.
It comes with quite large footplates that can very easily hold different foot sizes. The footplates are accompanied by fully adjustable velcro straps to provides you with firm grip, allowing you to go through intense training session without losing your balance.
In fact this machine is perfect for those who like to do vigorous rowing work out because the adjustable shock resistance of this machine makes it completely steady even under the forceful and energetic rowing motion. To avoid slipping, users can also use the floor protectors.
Many users have also acclaimed the well-shaped and comfortable seat that is accompanied with an easy-glide feature and an angled seat rail.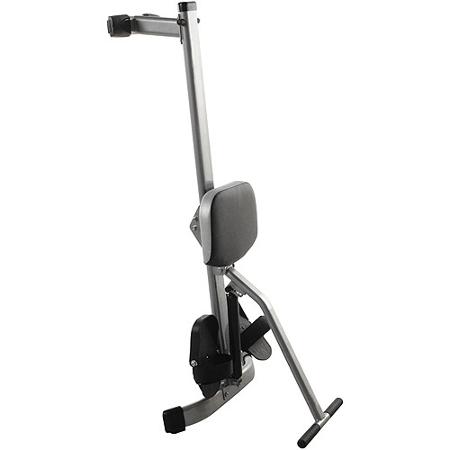 Fully-foldable feature of the Stamina InMotion makes it very convenient for storage. The compact footprint of this machine ensures easy mobility and will allow you to store it at any desired place in your house.
It can very easily support an obese or overweight users as it can carry user weight of upto 250 pounds.
The oar is thickly padded with foam to prevent blisters from forming on your fingers that allows its user to indulge in lengthy workouts sessions. Because of its smooth features, it does not make whirring and mechanical noises that usually come with lower-quality fitness equipment.
Part Assembly
Even the most novice person can easily manage to setup this machine. It has a very compact size and users only have to join the oar, footplates and monitor to the main frame of the machine. It takes merely around 20 minutes to assemble the whole machine.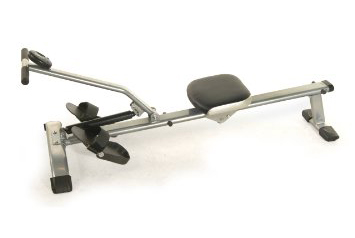 You get all the tools, accessories and equipment with the boxed packaging that required for joining the several parts. A comprehensive setup guide is also included, just in case you are not able to set it up.
Summary
Stamina InMotion Rower is an outstanding value for money fitness equipment. This rowing machine is simple to use and exceptionally sturdy; it can withstand wear and tear, and that makes it ideal for day-to-day use.
The best thing is, it takes very less space for storage because of its compact size and foldable feature.