We are living in an era where we are not getting enough time next generation is going to face health challenges. Sedentary lifestyle, long working hours, not getting enough sleep, eating junk food are real concerns. Obesity is very common. To live a healthy life, we must include easy fitness hacks in our daily routine to be in shape. We all have seen youngsters attracting towards gym and yoga bearing all the expenses. You have to find some time to keep your body moving. A quick workout is possible at home, which most of us think like a big task. All you have to do is keep motivated.
There are few websites that carry all the products related to the gym such as Australian sports nutrition it has all the supply from protein powders to ketogenic diet related powders. All the big banners you can get on this website.
There are a few hacks that we are enlisting here which you can add up to your routine to makes you fit.
Enlist activities
Enough sleep (6 to 7 hours)
10 minutes workout plan
Increase water intake
Gift yourself
Arrange parties at home (one dish party)
No electronic devices in the bedroom
Get fit together
Gadgets and tools
Add different detox drinks in daily life
Walk
Meditation
Clean eating
Enlist activities:
The first thing you can do is enlisting your activities to make a plan and follows it. So you know what to do and how to do it. When making a plan, one must write activities which are healthy in nature and how to manage time. Make a plan for a week. Also, write the time you take for every activity every night check if you are leg behind it or on reaching it. How much time did you require for gyming and following a healthy routine? Are you getting enough sleep?
Bio Complete 3 contains a potent blend of probiotics, prebiotics, and postbiotics that helps improve metabolism, digestion and reduce cravings.
What have you eaten for lunch, breakfast, and snacks? Must write all these aspects of your day to day activities, how much time taken to travel?
Getting sleep of 7 hours daily:
For healthy routine person must get quality sleep. If you are sleeping late, you woke up tired, and you will not perform your work accordingly as your mind would not be refresh. If you are not sleeping enough for 6 to 7 hours, your health will start deteriorating, and you have to spend lots of money seeing doctors and doing health tests.
If you are not sleeping enough, chances of obesity and heart disease increased as well. If you want to be healthy, you should rest properly. Night sleep is very important for the body as our cells rejuvenate in that time. You have to reduce your participation in cocktail parties if you want to be fit.
10 minutes workout plan:
There are many apps available which you can install in your cell phone for concise workout plans which you can follow at any part of the day. You just need 5 to 10 minutes for lunges and stretches, and you are good to go. All you need is the motivation to work on your body. You can even do these kinds of workouts during lunch breaks in office or commercial breaks in your favorite dramas. The apps also show the visuals of exercise so that you can easily follow it. It has different levels as well like beginner, middle and expert. It's very good for working and new moms. Those people who are very busy and having a tight schedule can install these apps and do it in office working hours in tea break or lunch break.
10 minutes workout plan is other than gym and cycling.
Increase water intake:
If you want to be healthy, you must drink 6 to 7 liters of water. Water helps the kidney to function properly; otherwise, the kidney won't work fine. Water also helps your mind to be more alert. Add water remove soft drinks from your daily routine. It will help you lose weight and fight obesity. Water removes toxins from your body. For an increase in intake, you can do this thing to set the alarm on your phone to consume water. You can also carry 1 liter of water bottle with you whether you are at the gym or work. Drink water as much as you can it will also make your skin flawless.
Gift yourself:
For every goal, you reached gift yourself with something. Tell yourself when you achieved a target you will give this incentive. This will keep you motivated towards reaching a certain goal. For example, when you lose 2 kgs or when you walk 5000 steps up to 15 days, you will gift yourself a spa treatment or manicure or pedicure. This will benefit you in the long run, and you will be kept ongoing. Mini goals and small gifts.
Make a calendar of it. For 6 months, for 3 months etc. how you reached a certain target make small steps one by one to reach the designated destination.
Arrange parties at home:
If you want to be fit, you have to opt for a healthy lifestyle. Don't go out and eat. Stop the urge to go out and consume junk food as it's not good for health. Now you must be thinking that It will be boring to be at home all the time without friends. Don't worry, and we got you. Arrange one dish (home-cooked meal) party at home. Be friends with people who are having the same interest as opting for a healthy lifestyle. It's easier than to share meal plans, menu and you can do grocery together. It's so much fun to share recipes and enjoying meals together. You can even prepare a meal together. Now enjoy healthy weekends.
No electronic devices in the bedroom:
For peaceful sleep, avoid electronic devices in the bedroom. In your bedroom, you can only take rest and relax. You can have bookshelves in the bedroom so you can relax and read before going to bed. Electronic devices such as cell phones and laptops are bad for health. Its signals are so harmful it can damage the nervous system. The bedroom should be the coziest place in your home. Stop watching tv, using a phone or any electronic device before 1 hour as it makes you hard to sleep and damaging your internal clock.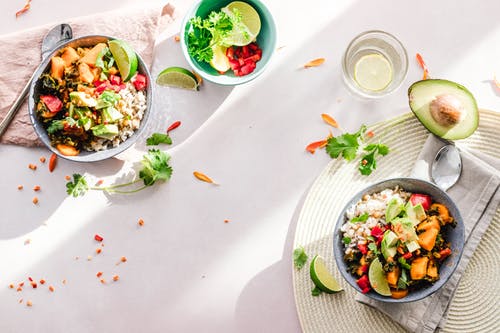 If you have an electronic device in your bedroom, it will increase your stress level so avoid electronic gadgets at home.
Get fit together:
Friends are a very important part of our life. Be friends with those people having similar interests, goals and values. Join the gym together, signup for membership and start working out together. Motivate each other. Praise each other. It's hard to keep your motivation level high, and you might lose interest, don't worry if you are friends with someone having a similar goal you support each other. Send meals, share menus, walk together and even stretch together you would be surprised in sharing weight loss and healthy lifestyle together.
Make a gym buddy go gyming together and even go cycling together.
Gadgets and tools:
There are many gadgets and tools available in the market which helps you get in shape but if you don't have money to invest in such tools don't worry. Use tools and utensils available in your home such as if you don't have enough resources to calculate steps you are taking each day to buy fitness band install the application in your cell phone so you can calculate your steps. You can use weights if you want to get in shape if you can't buy weights and dumbbells you can use water bottles and cans available at home.
Health watches and bands are available to calculate the steps; your heartbeat etc. even how many hours you sleep. It can track all your activities, so you can switch towards a healthy lifestyle.
Add different detox drinks in daily life:
Detox drinks remove toxins from our bodies; it's easier to make. In a bottle add one-liter water cut one cucumber add them and add one lemon cut in two add Himalayan salt and drink this water whenever you feel thirsty. another drink help to lose fat is honey warm, water and lemon it's easier to make let me tell you how first warm a cup of water in a pan, now put it in cup, now add a tablespoon of honey in it and half lemon drink in twice a day it will remove excess fat from your body, good for digestion.
Walk:
A brisk walk helps us get in shape and follow a healthy lifestyle. The next time you want to do groceries from the nearby shop don't start your car but walk. Start walking and you can see the change will make you more active, help in getting back in shape, good for your bones; even you can get fresh air. Try to include walking in your daily life, and you can see the change how it affects your overall body and help in the cure of sore muscles. When you are sitting in your room and it been some time start walking slowly.
Meditation:
The first thing you can do when you start your day is meditation. It helps in focusing the mind and makes you relax. You can also do some meditation before sleeping so you can get a peaceful sleep. Take deep breaths while you close your eyes for 5 minutes, relax your body.
Meditation helps the mind the same goes for exercise, which helps the human body to get ourselves trained.
Meditation helps in concentration activities such as counting beads; looking at the candle for a certain time makes our concentration level high. There are many health benefits associated with meditation such as it helps in lowering the blood pressure, releases stress (decrease in level), decreases our pulse rate, and relaxes your mind, helps in circulation of blood and a feeling of being healthy.
There are so many health benefits if you meditate.
Clean eating:
If you want to start a healthy lifestyle, you must avoid oily and junk food rich in complex carbohydrates. Start eating a clean home-cooked meal it will support the high-intensity workout you are doing.
Also, portion control your meals add vegetables, nuts and fruits in your meal with the high protein diet. Don't drink sugary drinks, pasta and creamy stuff (doughnuts and cakes).
In portion control, you eat a meal in portions that carry a serving of protein, 2 to 3 serving of vegetable and 1 serving of fruit. If you are urging for something sweet, eat Greek yogurt with honey or make a smoothie of banana with yogurt.
Banana smoothie:
Here is how you can make smoothie add a banana, add two teaspoon peanut butter, add a cup of Greek yogurt now blend it till it becomes smooth.
You can also make berries smoothie-like strawberry smoothie or even strawberry shake.
Strawberries shake:
For strawberry shake add 5 to 6 strawberries, add a cup of low-fat milk, add a teaspoon of honey now blend it strawberry shake is ready to be served.
Conclusion:
Being healthy is not just a goal but a lifestyle to be followed. If you want to be healthy, it's not that difficult if you are ready to work that out and do some struggle in the right direction.
You just have to be motivated and keep on moving. There are many healthy hacks if we can add them into our daily routine our lifestyle will take a new dimension. Many people thought they couldn't forgo their craving for food; this perception is wrong. You just have to twist the recipe and used all-natural and healthy ingredients to satisfy your craving. Another perception is gyming, and all these healthy lifestyles are very expensive that's wrong you can do the high-intensity workout at home by following applications and groups and eat healthy food there are hundreds of recipes available on the net.
Routine planning is important to step in the health plan you must design your schedule and add activities like the workout, jogging, cycling and brisk walks in small breaks.
You can stop using the car and use the cycle to go to your work daily, and you can skip going to the grocery store by car and do the walk. It's all depends upon you how you incorporate all the activities in your daily life.
Avoid eating junks and eat at home, don't skip your meals. Go to the gym regularly. Reward yourself when you follow healthy lifestyles. When reached certain steps, target or cycling target gift yourself something to keep yourself motivated. Be happy read books, laugh out loud and follow healthy lifestyle hacks.