Find our Resistance Bands reviews to help you buy the best resistance bands for your daily workout be it yoga, pilates or crossfit.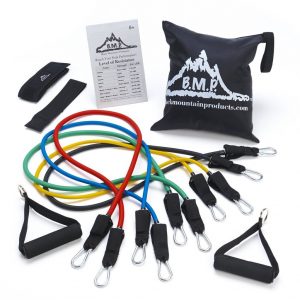 Our top recommendation for the best resistance bands of 2019 is definitely Black Mountain Resistance Band Set priced at $31.
This set of resistance bands comes with everything you need. From Door Anchor, Ankle Strap, Exercise Chart, and Resistance Band Carrying Case, nothing has been left out.
Top Recommendation :
Black Mountain Resistance Band Set
The Black Mountain resistance band set comes with seven different bands with varied resistances (Yellow 2-4lbs, Blue 4-6lbs, Green 10-12lbs, Black 15-20lbs, Red 25-30lbs, Orange 35-40lbs and Purple 45-50lbs).
The set also includes two sets of handles, two door anchors, two ankle straps, carrying bag and an exercise manual, however you can also refer to the 30 complete body workouts that we have listed below that you can do with resistance bands.
The complete set is reasonably priced and all Black Mountain come with a lifetime warranty.
There are 123 customer reviews on amazon and almost all of them have had a with experience with the bands.
==> Click here to Check Today's Price on Black Mountain Resistance Band
Top 10 Complete Body Workouts with Resistance Bands
Chest Workouts
1. Pushups
The classic chest workout but with added resistance. Get in the traditional plan position and drape the resistance band around your upper body and get going with the regular pushup.
The extra resistance brings up the intensity and allows you to grow your chest muscle without the chest presses on weight benches.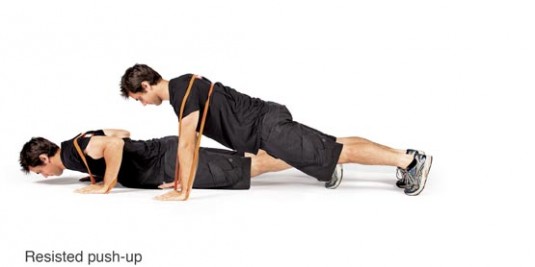 2. Standing Chest Press
Another great workout to really get your chest pumped up. While most of your friends are busy with an expensive machine or paying a hefty gym membership, you can get the benefits of this amazing exercise with a quick set of resistance bands.
Aim for 12-15 reps and 3 sets for this exercise.
Back Workout
Bent-Over Row
With your feet placed at shoulder's width, stand at the center of the band and hold each side with your hands. Keeping your back straight and chest out, bend a little forward and a little at your knees. Now with your elbows bent, pull the band backwards squeezing your back.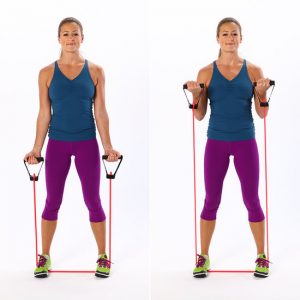 Lat Pulldown
For this exercise, you need to anchor the resistance band over head to a sturdy bar. Now, pull the band down from your sides and kneel back while facing the anchors so that your back is straight and gets squeezed while you pull.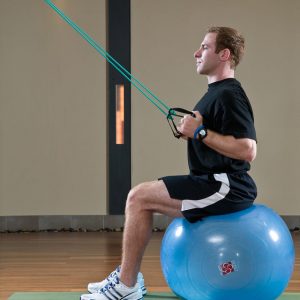 Leg Workout
Front Squat
Stand over the center of the band with your legs apart at your shoulder's width. Complete a natural front squat while keeping a back straight and making sure that your knees do not go beyond the knees.
The added resistance will really work up those quads.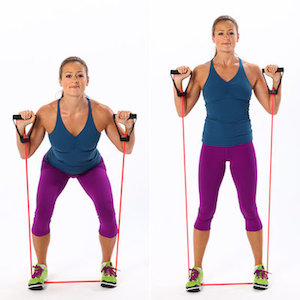 Lateral Band Walk
Place the band around your feet at the ankle and while in a half squat position walk sideways, one step at a time. Do 3 sets with 10-12 reps each.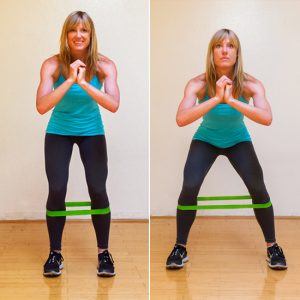 Arms Exercises
Bicep curl
Stand at the center of the resistance band and hold one end of the band in each arm. Now, keeping your elbows in the front and your forearms at a right angle to the rest of your body, pull the band upwards while alternating hands.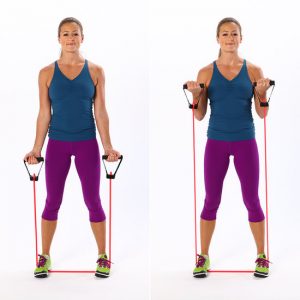 Triceps Kickback
Placed your foot in front of you and anchor the resistance bands under it. Now hold one end of the band in each hand. Kneel towards the bar at which the bands have been anchored and pull your elbows back. Complete the workout by completely extending your hands back and returning to a 90-degree angle at the elbows.